About Us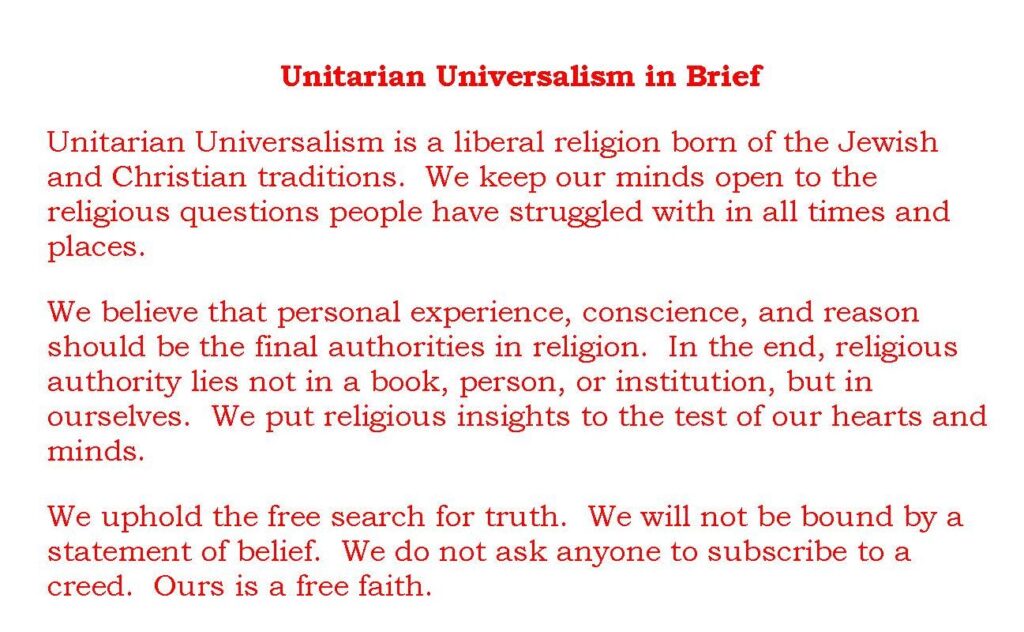 We are brave, curious, and compassionate thinkers and doers. We are diverse in faith, ethnicity, history and spirituality, but aligned in our desire to make a difference for the good. We have a track record of standing on the side of love, justice, and peace.
We have radical roots and a history as self-motivated spiritual people: we think for ourselves and recognize that life experience influences our beliefs more than anything.
We need not think alike to love alike. We are people of many beliefs and backgrounds: people with a religious background, people with none, people who believe in a God, people who don't, and people who let the mystery be.
We are Unitarian Universalist and Buddhist, Christian, Hindu, Humanist, Jewish, Muslim, Pagan, atheist and agnostic, believers in God, and more.
On the forefront of Lesbian, Gay, Bisexual, Transgender, and Queer inclusion for more than 40 years, we are people of all sexual orientations and gender identities.
We welcome you: your whole self, with all your truths and your doubts, your worries and your hopes. Join us on this extraordinary adventure of faith. Get involved!
Have You Been a Unitarian Universalist Without Knowing It?
Frequently we hear people say, "I have been a Unitarian Universalist for years without knowing it!" It may be true for you, but how can you tell? As a beginning, you can see if any of these questions have a familiar, personal ring:
I cannot accept religious beliefs on faith alone. Is there a religion for me?
I believe in many things: human dignity, ethical effort, the constant search for truth, and the need for more human community and harmony with the natural order, but I cannot bind my beliefs to a creedal test. What church would want me?
Some churches seem to insist that religious truth is revealed and complete. Does any religious tradition welcome the idea that truth is a growing, not a finished, thing?
A child should be allowed to discover religion in his or her own unfolding life, not through a process of indoctrination. What church practices this?
Can a religious community be effective and still encourage each member to be a free, individual self?
There is beauty and truth in many of the world's religious faiths. Is there a faith that does not claim to have all the answers?
Where is there a religion that honestly encourages the fullest possible use of reason?
Can persons from any religious background–or no religious background–find a religious community where all are welcome without "conversion" or "renunciation"?
I want to be free to affirm–or doubt–and still be religious. Where can I find a religious community that calls no honest doubt "heresy" and no honest affirmation "unworthy"?
If you find something of your own thought, experience, and searching in these questions, there is probably an exciting place for you in Unitarian Universalism.
From the historical affirmation of the unity of God (Unitarian) to the universal salvation of all souls (Universalism), UU beliefs have expanded to a broader concept of a unity in diversity that affirms the supreme worth of all persons bound together through love. We cherish wide differences of religious belief and spiritual expression within our ranks, yet there is a sustaining bond of union expressed in the covenant affirmed by the member congregations of the Unitarian Universalist Association, expressed as the UU Principles:
The inherent worth and dignity of every person
Justice, equity, and compassion in human relations
Acceptance of one another and encouragement to spiritual growth in our congregations
A free and responsible search for truth and meaning
The right of conscience and the use of the democratic process within our congregations and society at large
The goal of world community with peace, liberty, and justice for all
Respect for the interdependent web of all existence of which we are a part.
(Excerpts from "Meet the Unitarian Universalists," by Jack Mendelsohn, © 1997 Unitarian Universalist Association)